Tips for Before and During Your Travel
Insurance experts probably look at protecting their property a little differently than the average person. We tend to believe that prevention is as important as good coverage when it comes to risk. With that in mind, here are some ideas about protecting your smart home while on vacation:
Have a neighbor or friend keep an eye on your house and ask them to pick up any stray advertisements left on the door or garage

Notify your local sheriff or police department that you will be away. Many law enforcement agencies will send someone to drive past your house while you are out of town

Remember to have your mail held. You can take care of this online.

Hire a snow removal person or yard maintenance person so that it looks like someone is taking care of the property and it isn't vacant

Secure or store yard items (patio furniture, umbrellas, barbecues, etc.) so they do not get stolen or damaged

Unplug appliances such as computers, toasters, coffee makers, sewing machines, etc. These could be damaged if a power surge happens while you are gone. And many use small amounts of electricity when they are plugged in due to internal electronics such as clocks

Wait to share your travel tales and pictures on Facebook or Instagram until after you have returned. It is never a good idea to let burglars know that you are out of town so limit who you notify about your whereabouts

Consider turning the water off to your house. If a water pipe breaks while you are away you could come back to a terrible flood inside

If it is wintertime, open the cupboards under the sinks to let warm air circulate around the pipes

Invest in smart technology that makes sense to you for your lifestyle
Technology For Your Smart Home
The following infographic suggests some items you may want to consider installing for a safer smart home. (Click on it for better readability.)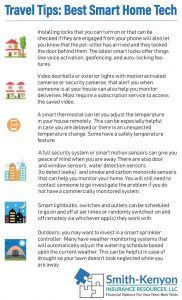 Enjoy your time away from home with the peace of mind that comes from knowing your home is safe and secure. If you have any questions about this article or any property insurance questions, please contact us.

Resources:
Photo credit – Shamia Casiano at Pexels.com
https://www.pcmag.com/article/344336/the-best-smart-locks


We try and make the purchasing process as easy as possible by helping clients make sense of it all and walk away with confidence in their insurance decisions.
Financial products and Insurance are provided through partner carriers. See disclosures and product materials for specific features and benefits.
An agency relationship is not created by viewing or reading this blog. Examples of protection are not all-inclusive, and policyholders should refer to their policies for full coverage details.  ©Smith-Kenyon Insurance Resources, LLC 2018