You probably did not know that there are 15 fire hazards you use every day in and around your home. My dishwasher caught on fire. True story. In the middle of a Netflix-night with the Kenyon part of Smith-Kenyon, we smelled smoke and realized our stainless steel, European branded, newish dishwasher was aflame.  More like, asmoke.  (But that isn't a word and it isn't really important to get into semantics at this point in the story.) Apparently, we are not alone in having this kind of excitement in our lives. 
According to the National Fire Protection Association, "Dishwashers were involved in 1,130 home structure fires reported to U.S. fire departments per year in 2006-2010. These fires resulted in two civilian deaths, 19 civilian injuries, and $23 million in direct property damage per year." 
I do not mean to make light of this situation, we were fortunate that we were home at the time and could deal with the problem before any major damage could take place.  It is heartbreaking to know that other people have suffered because of something faulty in their homes. The potential for harm is what makes an everyday item a dormant hazard. That being said, prevention is the key to fire safety.


How many of these 15 fire hazards do you use every day?

Here are fourteen more items in and around your house that can pose a fire hazard and tips to help you prevent such an occurrence:
In the Kitchen
Ranges or cooktops, with or without ovens, accounted for the majority (62%) of home cooking fire incidents according to U.S. Fire Departments responding to calls in 2011-2015. Unattended cooking was by far the leading contributing factor in these fires and fire deaths.

** Never leave the kitchen if something is cooking. Do not place wrappers or potholders on or near the stove.
Portable cooking devices, toasters, warming devices

*

*

Only use one heat-producing appliance (such as a coffee maker, toaster, space heater, etc.) plugged into a receptacle outlet at a time. Clean crumbs from the toaster tray. 
Microwave oven

** Start with the minimum time suggested for heating popcorn.  For additional safety tips visit the

NIH.
Outside
Grills, hibachis, barbecues – Five out of six (82%) grills involved in home fires were fueled by gas, while 14% used charcoal or other solid fuel.

** 1 out of 5 fires started because the grill had not been cleaned. In addition to keeping the grill clean, position it away from structures.
Washer and dryer – dust, fiber, or lint in dryer fires and wires or cable insulation in washers were the leading causes of fires

** Clean the lint trap each time you empty a load from the dryer. Periodically, vacuum the dryer vent exhaust hose and the inside of the dryer filter housing. 
Space heaters – Space heaters are the type of equipment most often involved in home heating equipment fires

** Turn off portable heaters when you leave the room or go to sleep. Extension cords should not be used with space heaters as they generate too much electricity and can start a fire. Keep the heater away from anything that can burn, such as upholstered furniture, clothing, mattress, or bedding.
Air conditioners and fans

** Select and install cooling equipment for safety and effectiveness and use per manufacturer's instructions.
Candles – Three of every five (58%) candle fires start when something that could burn, such as furniture, mattresses or bedding, curtains, or decorations, is too close to the candle.

** Never leave a candle burning unattended or when sleeping.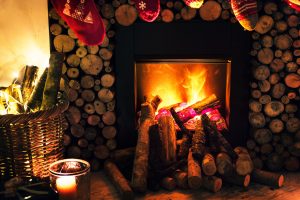 Curling iron/hair straightener – some turn off, some don't. 

 

**

Remember to unplug as soon as you're finished using it.
Television and components

** If your tv shuts off or starts smoking, unplug it and call the manufacturer.
Dust/Dirt

** Regularly vacuum so that dust bunnies do not gather near outlets or heaters.
Clothing – when attempting to put out a household fire clothes can catch fire

** Stop, Drop, Roll, and Cool with water for first and second-degree burns
Power strips and cords

**

 Appliances should be plugged directly into an outlet and not plugged into an extension cord for any length of time. Only use extension cords as a temporary measure.
Upholstered furniture a

nd mattresses –  

In 2010-2014, U.S. fire departments responded to an average of 5,630 home structure fires per year in which upholstered furniture was the first item ignited.  These fires killed an average of 440 people per year. 27% of these fires were started by smoking materials. Smoking materials are the leading cause of mattress and bedding fires and deaths. ** 

Never smoke in bed, as you can easily fall asleep with a burning cigarette, igniting the mattress or bedding.

 
Fire Prevention
Did you know that  Fire Prevention Week is observed each year during the week of October 9th in commemoration of the Great Chicago Fire, which began on October 8, 1871?
So many of our household items are powered by electricity. Here is an NFPA tip sheet about Electrical Safety.  Another helpful fire safety article on electrical outlets can be found here: https://www.saveonenergy.com/learning-center/post/understanding-outlets-avoid-house-fire/
By following some easy to remember guidelines, such as not turning on appliances and then leaving the house or going to bed, making sure your equipment has the label showing that it is listed by a recognized testing laboratory, and periodically maintaining and checking for safety we hope you will always be safe in your home.  However, it is still advisable to have an escape plan – just in case.  Check out this blog post for more information on developing one. And as always, please contact us if you have any questions about making certain that you have appropriate coverage in case the unimaginable happens in your home. Our mission is to make it easy for people, communities, and businesses to find the right insurance options to protect what's important to them.
How many of the 15 Fire Hazards Do You Use Every Day?

Sources: National Fire Protection Association, National Institutes of Health, Fire Rescue 1
Photos: Pexels.com