Getting Ready for Winter – 12 Items to Keep in Your Car
Have you ever driven in an unfamiliar area and been surprised to find an unexpected toll road? If you had some change handy you were probably mentally high-fiving yourself for being prepared. Carrying a roll of quarters in your car console is a good idea. This is also because there are still some coin-fed parking meters. Here is a list of other items that you may want to keep in your car in the wintertime to keep your ride safe. Or at least manageable, in case of an emergency.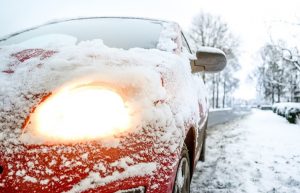 Skitterphoto.com
Be prepared
Ice scraper – It is advisable to put this in the car before the first ice/snow storm! 
Blanket – Keeping you warm in your stranded vehicle or on those cold football bleachers. 
Flashlight (with spare batteries) 
Jumper cables – Help someone in need if their battery dies or get a jump if yours does.
First-aid kit – Make your own kit with different sized bandages, antiseptic wipes, gloves, painkillers, scissors, gauze, adhesive tape.  This is important year-round.
Spare tire – If your car comes with an inflator kit instead of a spare tire you might want to get a spare for added security or in case of a full blow out.
Tools, including a car escape hammer – the tools will come in handy for changing the spare tire and the car escape hammer can be used to break your window or cut a seat belt.
Emergency warning triangle – After pulling off the road as far as possible, place your emergency triangle behind your vehicle so other drivers will see you.
Bottled water and trail mix or granola bars – It will make waiting for help a more pleasant experience.
Owner's manual – This is probably already in your glove box.
Foldable shovel – Shoveling your car out of a snow drift or using it to fill in a hole if you get stuck.
Are you prepared?

How many of these items do you keep in your car in winter-time? Using these tips will make you feel better prepared to drive in winter weather. Likewise, we have tips for preparing your home for the winter months here.