How to Save Money and Stay Safe
Whether your travel plans are for business or pleasure, there are a few things that can help make the trip more enjoyable and more affordable. This is part of our series on Your Next Best Years – Travel Tips. Please watch for more tips at a later date.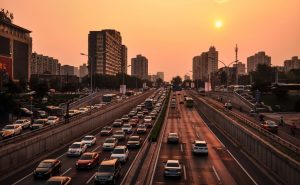 Travel Tips: Rental Cars – Are you looking forward to a new adventure that involves renting a car?  Have you wondered if you are getting the best deal?  Do you also wonder if the rental agencies are trying to make money by charging you for things you don't need? Underneath the tips below, we will share with you some resources for reducing or eliminating the need to purchase car insurance offered by the rental agent.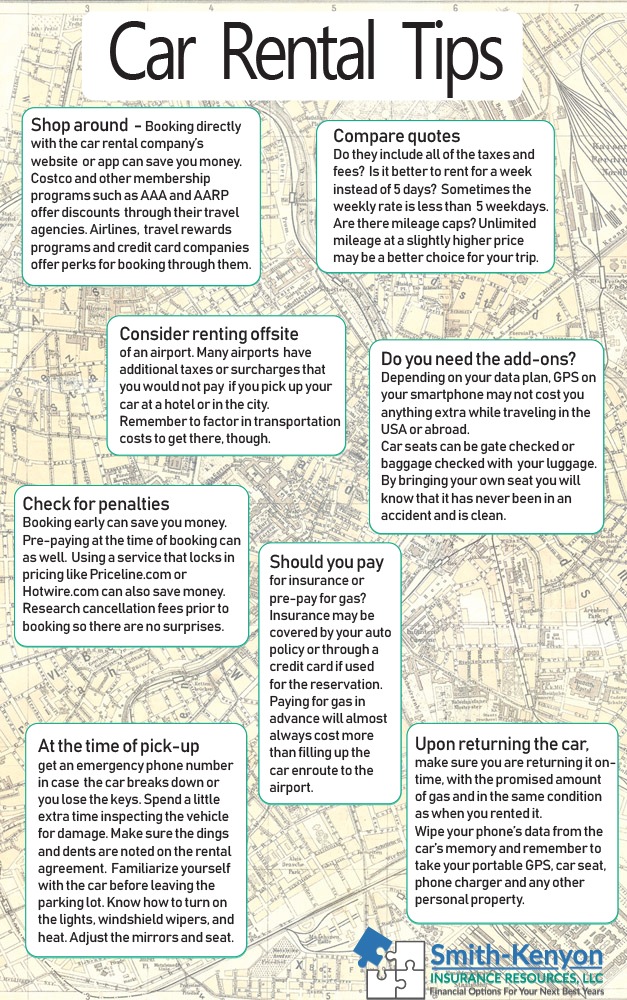 Do you need rental car coverage?
There may be a good reason to accept the insurance coverage that the car rental agent offers.  Maybe you do not have an auto policy already. Or you are concerned about potential premium increases should you need to file a claim with your auto policy. These are examples where it may make sense to purchase or supplement your existing coverage. Another scenario is if you are using the rental car for business. Your employer or insurer should be able to advise you about your coverage. Rental companies will want you to have "loss of use" coverage, too.  Loss of use means that the vehicle can not be rented while it is being repaired and therefore the company is losing revenue.
In many cases, you will not need to purchase additional coverage.

If you have personal car insurance with collision, comprehensive and liability, it most likely will cover your rental car.

 Also, if you use a credit card to pay for the rental car you may have primary or secondary collision damage and theft coverage. 

Before you rent, find out what your credit card and personal auto insurance offer, and then supplement what they don't cover through the rental agency.
Not every card affords the same coverage. Many Visa cards will cover theft, damage to the rental car, towing and loss-of-use charges if you do not have a personal auto insurance policy. However, both Visa and Mastercard exclude injury, property damage and damage to other vehicles, according to
nerdwallet.com
.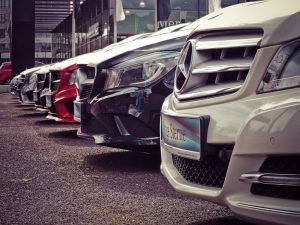 Options
Here are a few specific credit cards and the perks that they offer their  rental car customers:
Costco's Citicard:
Coverage up to $50,000 toward the cost of repairs or the cash value of the car, whichever is less, if a covered accident or theft occurs when you pay for a rental car with Your Citi® Card and decline the rental company's collision loss/ damage insurance.
From Chase.com's website regarding some of their cards:
Auto Rental Collision Damage Waiver –
Decline the rental company's collision insurance and charge the entire rental cost to your card. Coverage is provided for theft and collision damage for most cars in the U.S. and abroad. In the U.S., coverage is secondary to your personal insurance.
American Express has more in-depth information on their website based on what type of card you carry with them and where you reside. Look up your card here.
It is important to check with your credit card company to find out if the one you carry is eligible for this particular perk for the location where you are renting. Travel in some countries is excluded. Also, this information is accurate as of the date this is published. However, it is always a good idea to double-check that these policies are still in effect.

We hope that your Next Best Years will include safe and affordable travel. Our last "Travel Tips: Rental Cars" advice is to please contact us if you have any questions about your insurance coverage.
Resources:
Photographs – Pixabay, Unsplash, and Pexels
Chase.com
NerdWallet.com
AmericanExpress.com
Citi.com